An evening with Bill Medley, age 75 – Live at the Lido Theater in Newport Beach, CA , exceeded our expectations and gave us the time of our lives.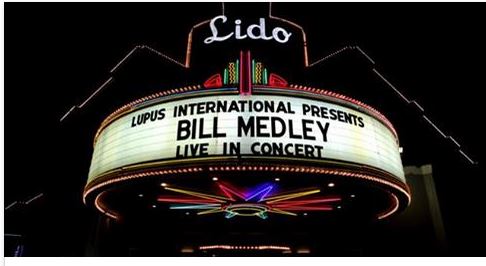 There was a full house of generous supporters and rock & roll fans contributing to Lupus International at the Righteous Brothers 27th Annual Concert.
The event featured Bill Medley and flash back screen shots of years past with his devoted business partner and good friend Bobby Hatfield. Even though Bobby died 12 years ago Bill Medley made sure his presence was seen and felt throughout the evenings' performance expressing a love that only a brother could share.
Bill Medley, a Newport Beach Balboa Peninsula neighbor and California native, now tours on the road with his wife and daughter McKenna and the 3 Bottle Band. It was a pleasure to watch the father and daughter duo perform together as they comfortably shared their love and musical talents that they both possessed. At age 4, McKenna started leaving her footprints on stage and continues building her own legacy as a songwriter and singer.
The evening took you back in time as you remembered the days of the Righteous Brothers performing at The Black Derby nightclub in Santa Ana, CA. Medley and Hatfield began singing as a duo in 1962. Their first single was the Medley-penned"Little Latin Lupe Lu" and their first #1 hit was "You've Lost That Lovin' Feelin". According to music publishing watchdog Broadcast Music, Inc., "You've Lost That Lovin' Feelin'" is the most-played song in the history of American radio. They crashed the Billboard Top 10 five times in 15 months, adding such classics as "(You're My) Soul and Inspiration", "Unchained Melody", "Rock And Roll Heaven", "Ebb Tide" and "Just Once In My Life".
The duo continued to appear together until Hatfield's death in November 2003. The Righteous Brothers were inducted into the Rock and Roll Hall of Fame in March 2003 by one of their biggest fans, Billy Joel. The movies "Top Gun", "Naked Gun" and "Dirty Dancing" repeatedly re-established the Righteous brand and introduced their music to a whole new generation of fans. Bill Medley's Grammy winning duet with Jennifer Warnes "I've Had the Time of My Life" from Dirty Dancing was a platinum seller, and walked away with the Song of the Year honors. Hatfield's performance of "Unchained Melody" in Ghost, originally recorded in a single studio take, was so overwhelmingly received that the duo recorded a new version, which also went platinum and brought them a Grammy nomination.
Bill Medley has written a memoir which was published in April 2014, titled The Time of My Life: A Righteous Brother's Memoir. I can't wait to read it!
If you or anyone you know would like to sell their home or live in Newport Beach, please contact Agent Mary Lou Skowronski – 949-355-6169
at Berkshire Hathaway HomeServices California Properties.